Car Tyre Manufacturers
DG Tyre Sevices supplies and fits a wide range of tyres from a number of different car tyre manufacturers.
Open 24 hours - Get a Quote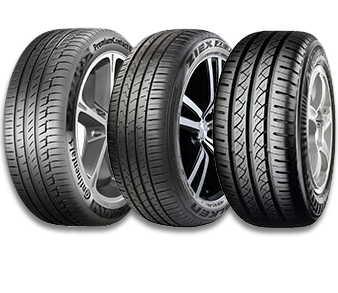 DG Tyres
We stock a huge range of tyres from leading manufacturers around the world and offer an unrivalled mobile fitting service, so that you can choose the most convenient time and place to suit your schedule. We supply and fit a wide range of tyres from all leading manufacturers. Since we started in 1992, we have developed the expertise to make the best recommendation for you. Whether you need a tyre for your car, van, 4×4, caravan, motorhome or trailer. We also supply a large range of original equipment (O.E.) for the majority of vehicles, so no matter what your requirements you can be sure you'll find what you are looking for.


Car Tyre Manufacturers
DG Tyre Sevices supplies and fits a wide range of tyres from a number of different car tyre manufacturers. Since 1992, etyres have developed relationships with these tyre manufacturers to ensure we sell the highest quality of tyre. Car tyres are classified into three different qualities to help you find the right tyre for your vehicle and budget. As a result the three classifications are Premium, Mid-range and budget tyres.

Premium Tyres
Premium manufacturers invest heavily in their research and development department. The large investment leads to technologies and tread design that provide superior grip, fuel economy and cornering while also having improved stopping distances and wear. Bridgestone, Continental, Dunlop, Goodyear, Michelin or Pirelli are the premium tyre brands.
Mid-Range Tyres
Mid-range brands offer a good compromise for everyday motoring. Often manufactured by premium manufactures and sold under a different name, they tend to have similar technologies and tread patterns that their premium alternatives do. You will benefit from efficient wear and fuel economy, but at a more reasonable price.
Budget Tyres
These tyres are usually ideal for cars that travel less miles, or on a second car. Generally they will wear out faster than premium or mid-range alternatives and offer less performance, but offer fantastic value-for-money, especially for cars that travel short distances to drive around town. Matador, Maxxis, Runway and Uniroyal are some good budget brands.
Get in touch today on t:
02392 655777
>
---
A quick guide to finding the correct Tyres
CAR TYRES - We come to you at home or work to fit your tyres. You can order online or if you prefer you can speak with one of our advisors on 02392 655777.

We know that the most important factors when it comes to replacing your car tyres are value for money and convenience.

As the UK's leading mobile tyre retailer we offer a range of good quality economy tyres as well as premium brands including Michelin, Continental, Pirelli and Bridgestone. To help you choose the correct tyres we have classified them into three categories: premium; mid-range; economy.

VAN WINTER TYRES - Tyres fitted to vans and commercial vehicles should be checked regularly for signs or wear or damage. However, fitting winter tyres is an essential measure in keeping working vehicles on the road and working safely whatever the weather. For some years now, large fleet operators like utility companies, delivery firms and supermarkets have made a point of fitting winter tyres to all their vehicles from October to April.

Winter tyres bring increased safety in all winter conditions, not solely on ice and snow. The costs involved are minimal, far less than the costs to any business of not being able to keep vehicles running in bad weather. Additionally, the mobile fitting service of DG Tyre Services means that there's no inconvenience or lost time involved in switching from summer to winter tyres, either.

DG Tyre Services recommends the use of winter tyres and we fit them to our own extensive fleet of vans every year. They are available in sizes to fit all vehicles and in the reinforced versions needed to support the higher load ratings and weightbearing specifications of vans and commercial vehicles.

Winter tyres for vans have been designed with durability in mind. The tread block design and tread patterns of many van winter tyres ensure exceptional tyre life. For more information on the technology behind winter tyres for vans click here.

Keeping both drivers and fleet vehicles safe, mobile and reliable is important for countless business all year round. Running vans with summer tyres in winter conditions can mean that customers are let down, deadlines missed and money lost, quite apart from the safety implications for both vehicles and staff. It's important to fit winter tyres when average temperatures fall, not solely when Britain grinds to a halt as the first snow starts to fall. Contact DG Tyres Today

4x4 TYRES - In recent years the market for 4×4 tyres has expanded to become the fastest growing sector of new vehicle registrations, in 2002 the demand for 4×4 tyres was 250% of that for 1997. Gone are the days when a 4×4 vehicle meant driving an ex-army vehicle with no heaters / wipers / performance etc. Today's 4×4 vehicles are some of the most sophisticated on the road.

Even manufacturers that many years ago may not have considered a 4×4 vehicle in their model line-up are selling as many as they can build – BMW X3 and X5, Porsche Cayenne to name but a few. Most of these "new generation" 4×4's come equipped with equipment such as cruise control, climate control, active suspension (to name but a few) as standard. Probably the biggest improvement is to be seen in the vehicle performance – for instance the Porsche Cayenne Turbo puts out 450bhp with 620 nm of torque, and will easily outperform the vast majority of cars of the road.

To cope with the extra power and performance of these new vehicles, 4×4 tyre requirements have changed dramatically. In the past most 4×4 vehicles were equipped with either 15″ or 16″ wheels and fitted standard (80 series) or possible 70 series tyres with either "S" (113mph) or "T" (118mph) speed rated tyres. Again if we take the Porsche Cayenne Turbo as an example the standard wheels fitted are 8Jx18 with 255/55R18 Y rated (186mph) tyres. Again with these vehicles there is always the option to upgrade wheel and tyres to 20″ or even 22″ and above.