25 years of mobile tyre fitting
Free mobile tyre fitting on every order, book online today for next day fitting
Open 24 hours - Get a Quote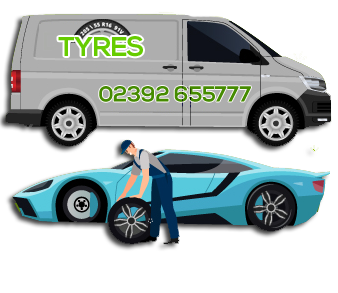 Mobile Tyre Fitting
We operate a nationwide mobile tyre fitting service to supply and fit tyres at a location of your choice. Our service gives you the choice of having your tyres fitted by our personal, professional and convenient service, without having to take time out of your daily routine.


Tyres fitted at your home or work
Your new tyres shouldn't come at the expense of your precious time. So, rather than waste the day at a traditional tyre depot or garage, you can choose to have tyres fitted at home, work or any other location at a time that is convenient to you.
Our mobile tyre fitters supply and fit a comprehensive range of tyres suitable for all models, vehicle types and budgets. We can also carry out puncture repairs, run flat tyre puncture repairs and fit Tyron safety bands to caravans, motorhomes, vans and 4x4 vehicles.
Why choose DG Tyre Sevices Mobile Fitting?
Free next day fitting on every order, no matter how many tyres you buy.
Nationwide fitting available.
Saturday fitting across all of our branches.
DG Tyre Sevices tyre deals online with £25 off any 4 tyre purchase.
2 hour time-slot provided on the morning of your fitting, so you know when we'll arrive.
Next day and same day mobile tyre fitting on all tyres.
Express 2-hour fitting is available to help in those emergency situations.
All the leading brands and tread patterns are available.
Fit tyres on the drive at your home or the car park at work – wherever is convenient.
5-star, excellent Trustpilot score from 22,000+ reviews.
What does DG Tyre Sevices Mobile Tyre Fitting include?
Free fitting on every order.
Balancing of your new tyres.
Valves replaced for new on every tyre.
Environmental disposal of your old tyre.
Get in touch today on t:
02392 655777
>
---
A quick guide to finding the correct Tyres
CAR TYRES - We come to you at home or work to fit your tyres. You can order online or if you prefer you can speak with one of our advisors on 02392 655777.

We know that the most important factors when it comes to replacing your car tyres are value for money and convenience.

As the UK's leading mobile tyre retailer we offer a range of good quality economy tyres as well as premium brands including Michelin, Continental, Pirelli and Bridgestone. To help you choose the correct tyres we have classified them into three categories: premium; mid-range; economy.

VAN WINTER TYRES - Tyres fitted to vans and commercial vehicles should be checked regularly for signs or wear or damage. However, fitting winter tyres is an essential measure in keeping working vehicles on the road and working safely whatever the weather. For some years now, large fleet operators like utility companies, delivery firms and supermarkets have made a point of fitting winter tyres to all their vehicles from October to April.

Winter tyres bring increased safety in all winter conditions, not solely on ice and snow. The costs involved are minimal, far less than the costs to any business of not being able to keep vehicles running in bad weather. Additionally, the mobile fitting service of DG Tyre Services means that there's no inconvenience or lost time involved in switching from summer to winter tyres, either.

DG Tyre Services recommends the use of winter tyres and we fit them to our own extensive fleet of vans every year. They are available in sizes to fit all vehicles and in the reinforced versions needed to support the higher load ratings and weightbearing specifications of vans and commercial vehicles.

Winter tyres for vans have been designed with durability in mind. The tread block design and tread patterns of many van winter tyres ensure exceptional tyre life. For more information on the technology behind winter tyres for vans click here.

Keeping both drivers and fleet vehicles safe, mobile and reliable is important for countless business all year round. Running vans with summer tyres in winter conditions can mean that customers are let down, deadlines missed and money lost, quite apart from the safety implications for both vehicles and staff. It's important to fit winter tyres when average temperatures fall, not solely when Britain grinds to a halt as the first snow starts to fall. Contact DG Tyres Today

4x4 TYRES - In recent years the market for 4×4 tyres has expanded to become the fastest growing sector of new vehicle registrations, in 2002 the demand for 4×4 tyres was 250% of that for 1997. Gone are the days when a 4×4 vehicle meant driving an ex-army vehicle with no heaters / wipers / performance etc. Today's 4×4 vehicles are some of the most sophisticated on the road.

Even manufacturers that many years ago may not have considered a 4×4 vehicle in their model line-up are selling as many as they can build – BMW X3 and X5, Porsche Cayenne to name but a few. Most of these "new generation" 4×4's come equipped with equipment such as cruise control, climate control, active suspension (to name but a few) as standard. Probably the biggest improvement is to be seen in the vehicle performance – for instance the Porsche Cayenne Turbo puts out 450bhp with 620 nm of torque, and will easily outperform the vast majority of cars of the road.

To cope with the extra power and performance of these new vehicles, 4×4 tyre requirements have changed dramatically. In the past most 4×4 vehicles were equipped with either 15″ or 16″ wheels and fitted standard (80 series) or possible 70 series tyres with either "S" (113mph) or "T" (118mph) speed rated tyres. Again if we take the Porsche Cayenne Turbo as an example the standard wheels fitted are 8Jx18 with 255/55R18 Y rated (186mph) tyres. Again with these vehicles there is always the option to upgrade wheel and tyres to 20″ or even 22″ and above.